Care for Pregnant Women at Complete Care Chiropractic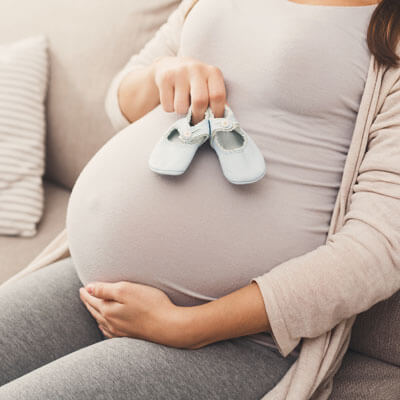 There's nothing Dr. Laura loves more than welcoming expectant mothers to our practice! Prenatal chiropractic can help naturally address pregnancy-related aches and pains, and help moms-to-be enjoy the healthy and happy pregnancy they want and deserve.
Certified in the Webster Technique, an adjustment style specific for moms-to-be, Dr. Laura welcomes patients in all trimesters to find out how a natural adjustment can greatly impact their pregnancy. Even Dr. Laura herself received Webster adjustments when she was pregnant!
What Is the Webster Technique?
The Webster Technique is an adjustment style that involves using a comfortable table. The best part? Pregnant women can lie down on their stomach, as our tables can be adjusted to create space for their growing belly. This technique is designed to decrease (sacral) pelvic stress. More than anything, the Webster Technique is a very comfortable adjustment that's safe for both.
Learn more about Understanding Gentle Touch: The Delicate Force Behind Chiropractic Adjustments
Advocating for Your Little One
We're proud to be an advocate for your little one before they enter the world. Through pregnancy chiropractic care at Complete Care Chiropractic, we can focus on helping you and your baby grow.
FAQ
Will an adjustment hurt my baby?
No, not at all. A baby is adjusted using just a light touch. That's all it takes to remove any subluxation.
At what point in my pregnancy should I start receiving care?
Chiropractic can benefit you at every stage of pregnancy. The earlier you start, the more likely you'll enjoy a comfortable pregnancy.
How does chiropractic help my unborn baby?
Not only does pregnancy chiropractic care support your health, but it also helps to support your unborn child's health. Chiropractic also can help your baby get into the optimal birth position.
Could chiropractic care help me have an easier and faster delivery?
It may! The Webster Technique has been shown to help moms have an easier and faster birth, with a reduced chance of having a C-section. You can find more information about the Webster Technique from the International Chiropractic Pediatric Association.
Schedule Your Appointment
If you're a mom-to-be, we'd love to see you in the practice and help you experience the healthiest pregnancy possible. Contact us today to learn more or book your first appointment—we're so excited to work with you!
CONTACT US »

Pregnancy Chiropractic Lafayette | (303) 926-1575