Reviews for Complete Care Chiropractic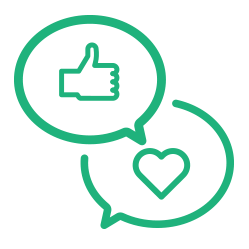 What Our Lafayette Patients Say
Complete Care Chiropractic we love when patients share with us their feedback and comments after chiropractic care. Please read our patient testimonials below to see what other people have achieved through their tailored treatment plans with us.
Share your stories too! Click here to send us your feedback so that we can help to spread the word about the benefits of care at Complete Care Chiropractic.
For more information or to schedule an appointment call or email us today.
Regards,
The Complete Care Chiropractic TEAM!
---
My experience at Complete Care Chiropractic has been friendly and courteous, from the greeting at the door to my treatment which was done in a calm, professional and confidence-inspiring way. Dr Laura made me feel relaxed and happy, which has not always been the case with previous chiropractors. I will not hesitate to continue my treatment at Complete Care Chiropractic.

Bjorn A.
Starting here I had headaches daily. I am now headache free. My shoulder bothered me and was on fire for years. I am progressing and it is no longer a daily issue. I no longer live on ibuprofen. Dr. Laura Duke is the best! I couldn't image putting my spine in anyone else's hands. Thank you! XOXO

Ann M.
I have never felt better! Walking, standing and stairs are a much easier task. My back doesn't pop and my hips stay in place. No more cracking/clicking. I used to go to the doctors at least 2 times per month. No more!

Sherry E.
My life has changed so much from the time that I started seeing Dr. Laura. What a different it has made in my life! I am very pleased with the way things have worked out. Thank you so much for everything you have done Dr. Laura Duke.

Char W.
With Chiropractic care, I definitely have a better quality of life. The adjustments on my back, neck, etc. allow me to do activities that I could mot otherwise enjoy. My pain has decreased over the 3 years that I've been coming here. Dr. Laura and Bevin are VERY skilled and friendly and they work together to compliment each other. Thank you for 3 great years!

Rose Ann J.
Not so much a medical practice, more like being adopted into Dr. Laura's family!!! Paul has not needed prescription medication for years due to the maintenance plan Dr. Laura suggested. I am grateful to get help with neck and back issues exacerbated by MS symptoms. Bottom line, We love you guys!

Allison B.
I used to walk hunched over and could not drive a car. I was in constant pain! Dr. Laura kept adjusting me until it got better and I still come for "touch ups". I have never met a chiropractor that was so dedicated and compassionate!

Eve A.
I run a small construction company and with out the help of my Chiropractor, I wouldn't be able to make it to work on a daily basis. So thank you to my silent partner Complete Care Chiropractic!

Nick F.
When I first met Dr. Laura, I could barely walk and my back was hurting so much. I am now back to playing gold and enjoying life again! This is one of the best decisions I've ever made!

Steve G.
Two years? No way! Time flies when you aren't in pain and I have Dr. Laura Duke to thank for it! Great service and an "in-tune" body are great reasons to keep coming back. Here is to another two years of good health! Thank you!

Kolbin B.
The team is all on point and work together like a well oiled machine. I was referred here by my partner and was not skeptical but am always hesitant when entering a new health related office. They were all amazing, welcoming and personable. I am currently receiving care here and so far it is helping. I am confident that If I keep it up and am working towards my own goals that this care is going to be life changing. Thanks Ya'll!!

William C.

Patient Reviews Complete Care Chiropractic | (303) 926-1575