Diversified Technique at Complete Care Chiropractic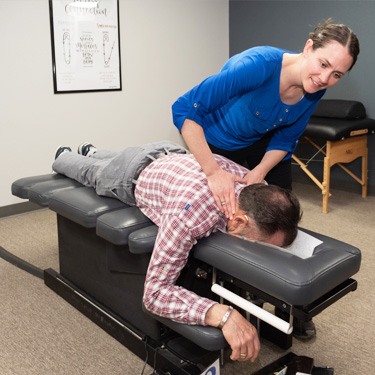 Dr. Laura is happy to utilize the Diversified technique for patients of all walks of life. A Diversified adjustment is light and not at all forceful.
And the best part? We can focus this adjustment directly to where your spine needs it most, meaning we don't have to adjust your entire spine.
What to Expect
First, you'll arrive to our practice for your appointment. If we haven't already taken x-rays or your health history, we'll do so at this time. We'll speak with you about your problem areas and determine whether or not a Diversified adjustment is right for you. If it is, and you're ready to move forward, we can do so at this time.
During a Diversified adjustment, you'll lay face down on an adjustment table. Dr. Laura will place both of her hands on your back, with one on each side of your spine. Next, a light push follows to realign the vertebrae.
You may hear a "cracking" sound, but this is only gas escaping your joints and nothing to be concerned about.
Most patients love receiving this type of adjustment because it's gentle and quick. We bet your time with us will be comfortable and you'll leave feeling more relaxed than when you walked in.
Who Can Benefit from a Diversified Adjustment?
We're happy to say many people can benefit from the Diversified technique. Patients often receive this type of care for:
Back pain
Headaches
Hip issues
Shoulder pain
Low back pain
And more
Learn What's Right for You
We're proud to offer a number of adjusting techniques, and we'd love to invite you to schedule a visit to learn more about which is right for you.
To get started, simply contact us to book an appointment. We look forward to welcoming you to our practice.

Diversified Technique Lafayette | (303) 926-1575